Elevate Your Tournament Search Experience
Discovering the optimal tennis tournaments to participate in can be a challenging task. With Match Tennis App's ability to search for tournaments based on participant ratings and our Applicant List Ratings and Rankings Ranges snapshot above all Lists, MTA users can now make better informed decisions and find tournaments that have players that align with their skill level and goals.
Tournament Search Using Participant Ratings
Finding tournaments that align with your skill level is a crucial aspect of planning your tennis journey. The Match Tennis App now offers even more powerful search functionality that allows users to specify UTR or WTN ranges and narrow down desired options accordingly. Here's how it works:
Specify Your Ratings Range: Set your preferred UTR range (e.g., 8.0-10.0) or WTN range (e.g., 15-30) to refine your tournament search.
Select Date Range: Along with the ratings range, you can also choose a specific date range to find tournaments that fit your schedule.
Enhanced Decision-making: By utilizing participant ratings in your search, you can make informed decisions about which tournaments are best suited to your skill level. This feature saves you time and ensures you participate in matches that provide the right level of competition.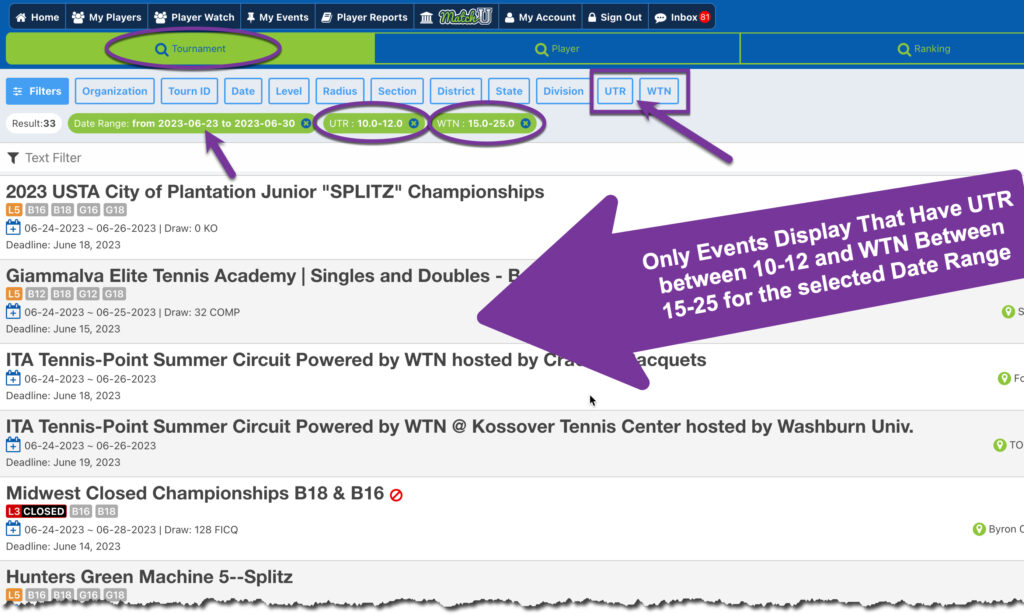 Utilizing the New Features
To make the most of these exciting additions, follow these steps:
Open the Match Tennis App and navigate to the "tournament search" section.
Click on either WTN or UTR filter button and specify your desired UTR or WTN range
Click the date filter and select the desired date range
Explore the search results and identify tournaments that align with your skill level and schedule.
Conclusion
These Match Tennis App's features empower you to find tournaments that suit your skill level and make informed decisions about your tennis journey. Whether you're a player, parent, or coach, these enhancements will streamline your tournament planning process and elevate your overall experience.
To learn how to view the Applicant's List ratings/rankings ranges click HERE.