Manage Your Entire Tennis Life!
Search tournaments, rankings and view applicants lists, use ranking forecaster, tournament calendar, MatchU college tool and more. . .
All in one place!
Use the Free Basic Version forever
Free 15 Day premium trial.
* NO CREDIT CARD REQUIRED
** One family account only
Enhance your chance to Get Recruited for College Tennis with Match U!
Quickly find and enter tournaments (UTR, USTA, ITF, WTN,), find players, rankings/ratings (UTR, USTA, WTN, ITF), doubles partners, view all player records, and plan and view your 12-month tournament calendar. All from one command center!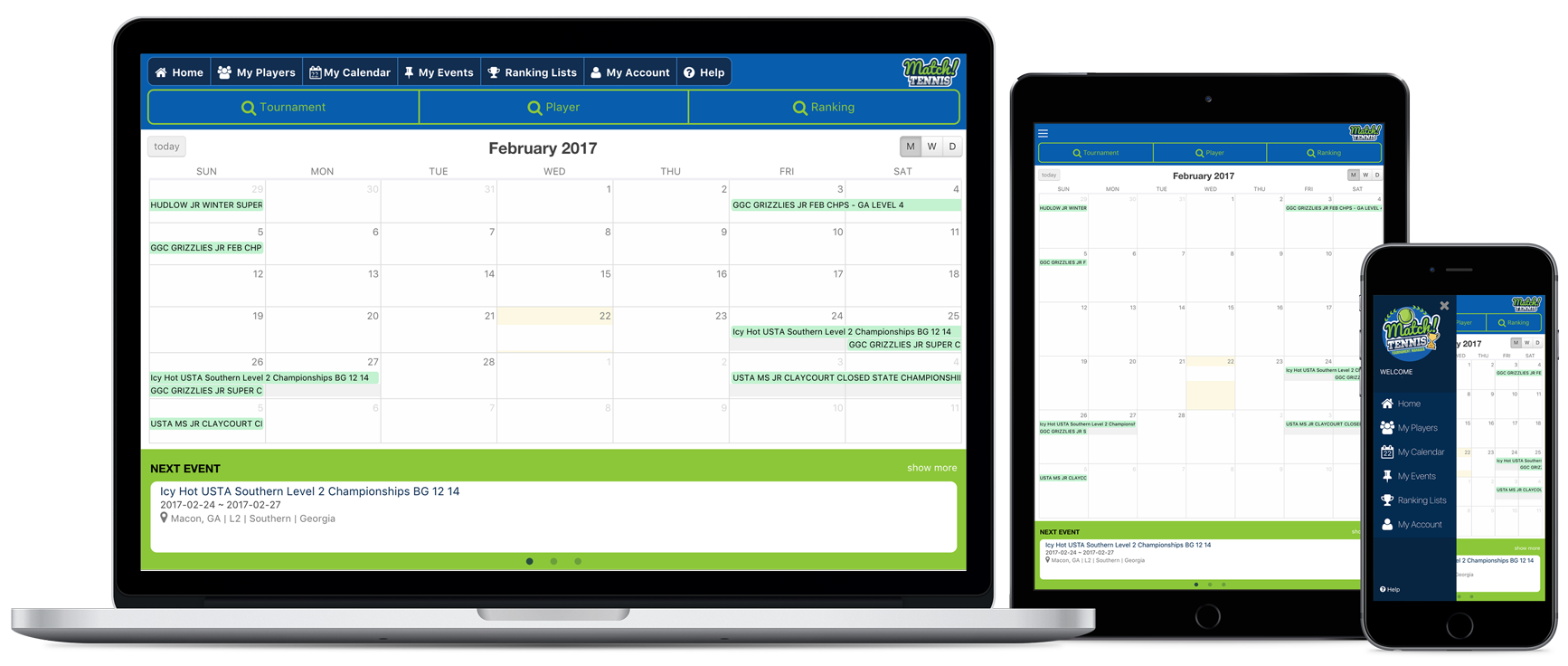 Our customers save on average 16 Hours per month with Match Tennis App
Access your account
on All Devices
Currently available on Desktop, Tablet and Mobile Phone
We support Chrome, Firefox and Safari browsers
Available on IOS and Android Apps
Manage your tennis tournament journey with Match! 
Are you frustrated with trying to figure out which tournaments your child should play?Struggling to find all of their different rankings and ratings unsure if they can even get into the tournament?
We have you covered!
Match! Tennis App has made the tournament management process simple. For the first time ever, managing every aspect of your player's tournament journey can be done right from the mobile device in your hand. 
By using the Match Tennis App Command Center, you can now spend less time trying to find tournaments, rankings and players records and spend more time enjoying the tournament experience itself with your child or players!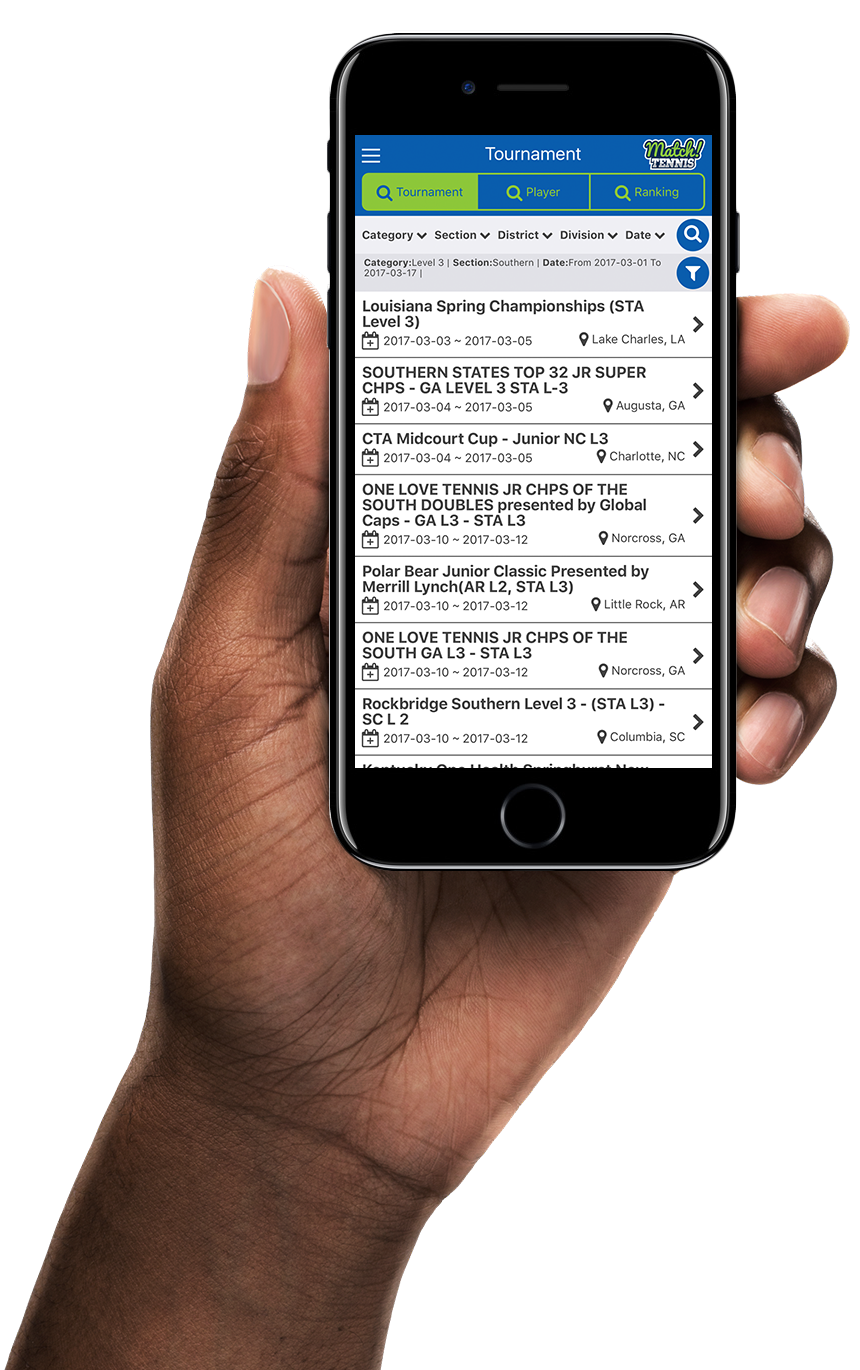 Match! Tennis App Features
Match University
With our revolutionary college recruiting tool, Match U, we connect college coaches and players like never before! Use our interactive checklist guide and college coach communications tool to find and communicate with all college tennis coaches all directly within Match U!
Find Doubles Partners
Easily find a doubles partner for each tournament through our doubles pairing service. Completely privatized, you never have to share your personal info unless you want to! 
Tournament Calendar
Plan your tournaments out for the entire 12 month calendar year! Add tournaments to your personal tournament calendar and get a snapshot view of your monthly tennis tournament schedule! 
Tournament Search
Using our tournament search feature, find any tournament (UTR, USTA, ITF, WTN with WTA and ATP coming soon.) Saves HOURS! No more having to go to 6 different websites!
Ranking Alerts
As soon as your ranking (national, sectional, state or UTR rating) changes, you're automatically notified via our email ranking alert notifications. No more searching for changes, now they just come to your inbox! 
Ranking List
Quickly find any player's USTA national, sectional or state ranking as well as UTR, WTN and TR ratings. Our USTA ranking lists also include UTR, WTN, and TR ratings beside each player all in one place!
Player Records
Find any player's record in one place. No more having to go to 5 different sites to find your state, sectional, national, UTR, WTN, and ITF playing records. View them all from The Match Tennis App Command Center!
Applicants List
Rapidly view your tournament applicant standing! Save hours figuring out if a player might get into a tournament or if they will be seeded. With Match Tennis App, you can quickly sort applicants by USTA state, sectional or national ranking, or by WTN and UTR ratings, and ITF ranking where applicable. 
Notifications
Never miss a tournament ENTRY DEADLINE AGAIN! With Match Tennis App, you are notified 3 days before and on the day the tournament entry deadline closes. Email has links directly to registration pages. This feature alone is worth the small investment!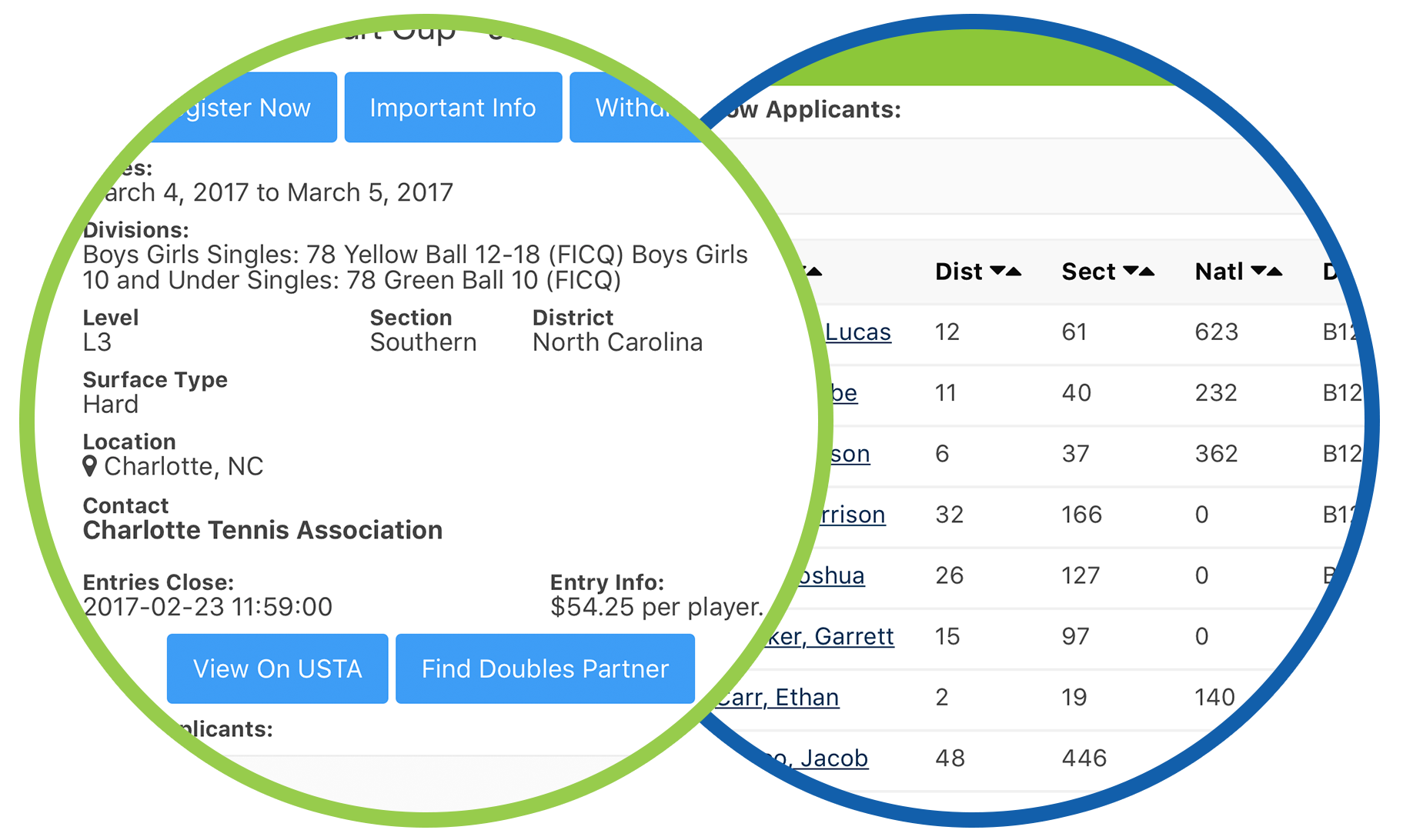 Easily Search Tournaments and View Applicants
If you have found it difficult in the past to find the right tournaments to play then you will love this feature. With our tournament search feature you can easily find any tournament anywhere with only a few touches.
Save Tournaments to your Personal Match Calendar and Track Upcoming Events with Notifications
Managing a player's tournaments can be a chore in itself. Sometimes it feels like a full-time job for parents and coaches. With our easy-to-use tournament calendar feature, you can stay organized by having your entire tennis tournament calendar perfectly laid out and visually planned each and every month right from our app. Get an instant "snap shot" overview of all tournaments with our monthly calendar view. Click on any tournament on your personal tournament calendar to see it's details to enter, withdraw, get entry deadline reminders and more. It's a huge time saver!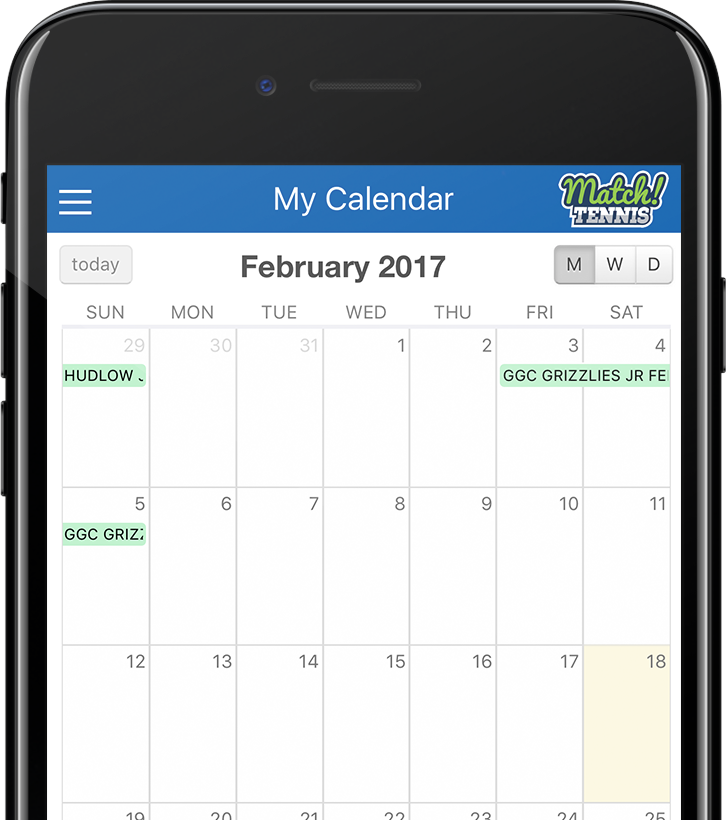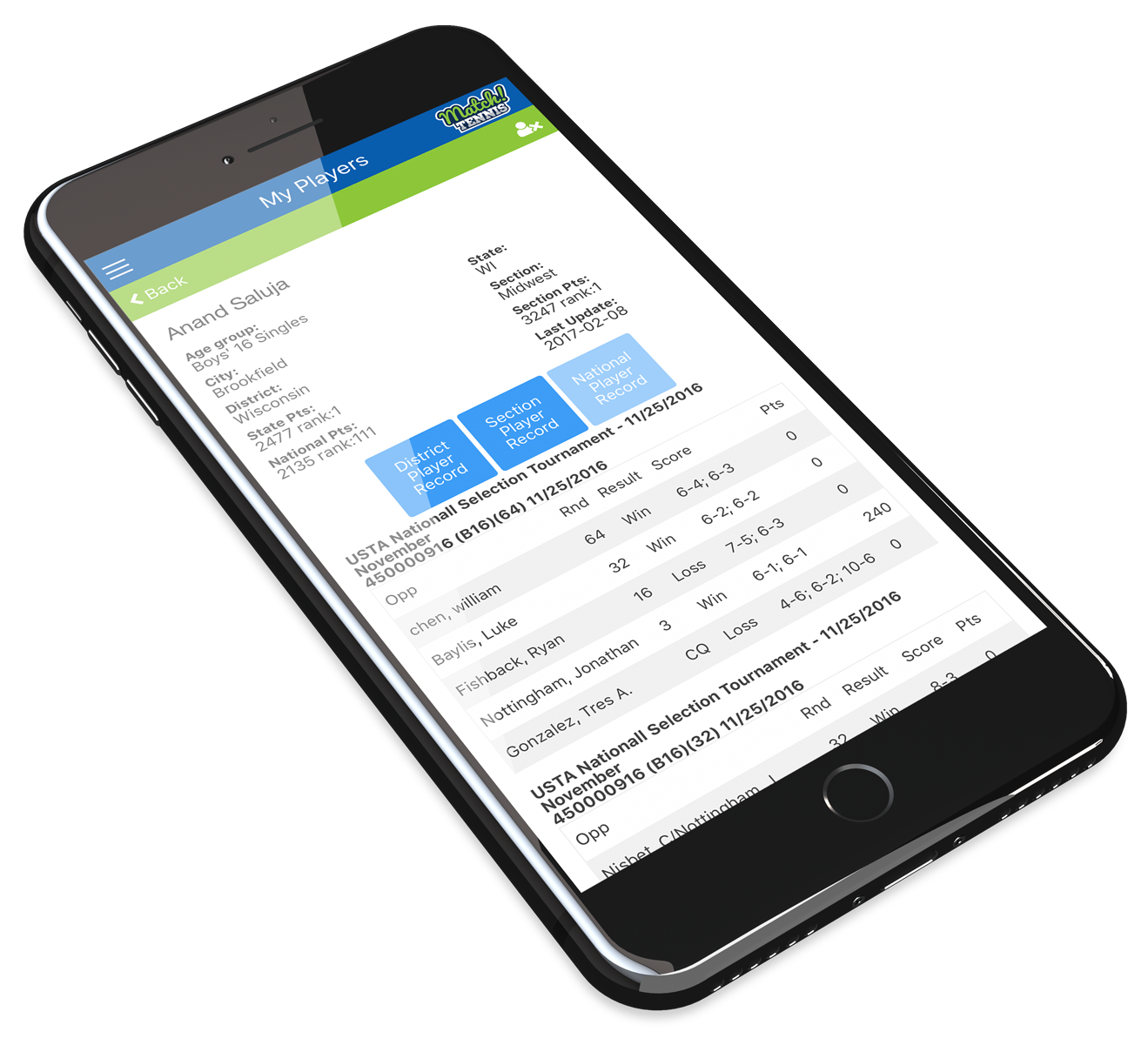 Search Players and View Player Records
Sometimes searching for players and trying to find their records can be a confusing venture. Match Tennis App makes it easy to search for any player and instantly separates players records based on national, sectional or state records. You simply choose which record you desire to view and presto, it's that easy. See all your tournament points for each tournament along with wins, losses and more!
Free Basic Account
Find and send messages to any player for doubles, match play and practice for free!
Search for USTA, UTR, and ITF tournaments 
Use

Match U

to organize and manage your College Recruiting Journey from freshman to senior year in high school
Use Match U's interactive checklist guide and college coach communications tool to find and connect with college tennis coaches
Use Match U to enhance your chances to be recruited to play college tennis at over 2000 universities
Search and find all USTA and UTR rankings

Find Doubles Partners

for upcoming tournaments

Save players to "My Players"

for easy tracking of rankings, records, upcoming tournaments and more! (limited player watch)

Email tournaments

to friends, coaches and students with one touch
Organize Your ENTIRE YEAR by adding tournaments to your

Match Tournament Personal Calendar 

Create separate tournament calendars for multiple players to stay organized
Premium Account
Monthly or Annual Premium Subscription
includes ALL Basic Plan features plus:
Tournament Scheduler (displays relevant tournaments for you based on your ranking goals)
Ranking Forecaster (shows you what your ranking could move to for any upcoming tournament by round passed)
Enhanced tournament search
Sort Tournament Applicants Lists by national, sectional, district and UTR rankings to see if your player(s) will likely be accepted into a tournament!
Never miss a tournament entry deadline again with our Automated Email Reminders
SwingVision Video Integration (all tournament match videos stored within your Match Tennis App SwingVision Library)
RacketStats (Take stats of EVERY tournament or practice match)
Sort USTA rankings by UTR, WTN, TR rating or by national, section, or district ranking (only place in the world where this can be done)
Premium Annual
$8.33/month* (17% Savings) *Billed as one payment
Premium Monthly
Less than the price of one movie ticket!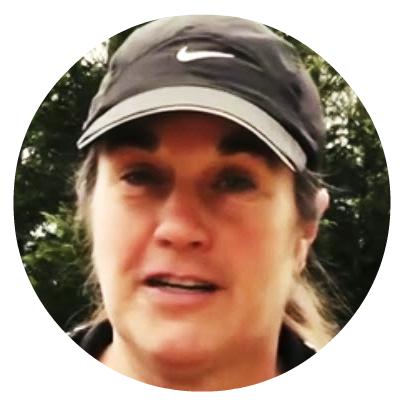 Susan
Mother of Two Tournament Players
Parents Love Saving Time During Tournament Entry Process
I used to spend hours trying to figure out if my son or daughter would make it into a tournament and Match! Tennis Tournament Manager has changed everything! I also had missed several entry deadlines before I began using The Match! Tennis Tournament Manager App… with the email reminders have not missed one since!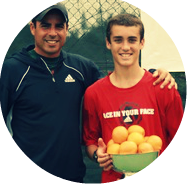 Coaches Love The Email Match! Tennis Tournament Manager Service
At the touch of a button I can now send an email from my Match! Tennis Tournament Manager App to all the parents of my students to let them know EXACTLY which tournaments I want them to play. The emails have the tournament details already included and parents can quickly sign up directly from my emails…I can now manage all my tournament communications with parents from one place. Huge time saver. I love it!