Virtual Tournament Desk
For OUR Safety!
Prevention – in an effort to help prevent the relapse of COVID-19 and to more effectively facilitate CDC guidelines and best practices, we will be using MatchTennis App's Virtual Tournament Desk which will be facilitated through the players/parents/coaches mobile devices
We will be using VTD at tournaments in lieu of a physical tournament desk, eliminating the most common scenarios where social gathering most often occurs during events. Please review this document in its entirety so we can ensure greater safety for all of us as we start back playing the great sport we love so much!
Safety – minimize risk to all including tournament participants, staff, and officials.
The VTD Will Used for the Following:
Virtual Check-In
Mandatory…ALL players must click the link on the Tennislink tournament page (USTA site) and complete the check-in form to provide the mobile contact phone numbers to be used with the Virtual Tournament Desk during the event.
You can also find [Pre-Tournament Check-In] button on MatchTennisApp tournament page.
Match Check-In
Players will check in for each match through Match Tennis App online.  Not Through The Physical Tournament Desk! Simply click 'Match Check-In' button on App.
Match Paging
After a player has checked in for their match each player will receive a text message from the director to report to their assigned court when their match is called.
Score Reporting
After match is complete both players will open the previous received text from the director and click the link to report the match score BEFORE leaving the COURT!
How to get to Pre-Tournament Check-In Page
For First time User
Go to USTA site and Search the tournament page and see detail of the page. (https://playtennis.usta.com/tournaments)
Go to

Important Info Tab

and Click "more info" link for check-in form. You can find the link under (New COVID-19 Procedures) Virtual Tournament Check-In ***Mandatory for All Players*** section.
Click "Create Account".  (Free Subscription)
Complete check-in form and waiver.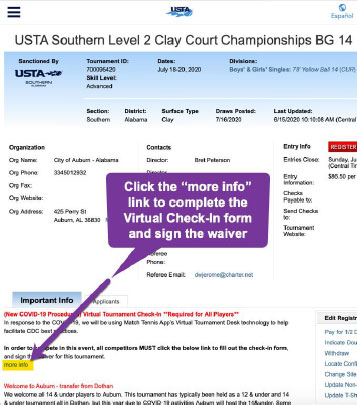 If you have already MTA subscription
Open Match Tennis App on mobile or browser and login
(* If you signed up once with other

Pre-Tournament Check-In 

or you are premium subscriber, you can use same username and password. No need to create new account.)
Go to tournament detail page from search or your schedule
Click the "Pre-Tournament Check-In" button
Click "Enter Login" with MTA account.
Complete check-in form and waiver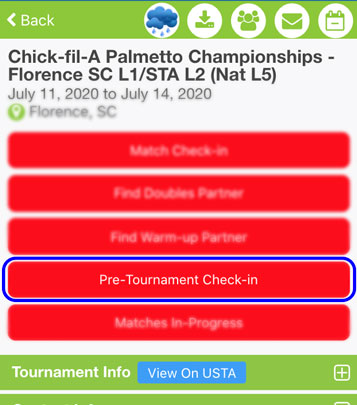 Pre-Tournament Check-In & Signing Waiver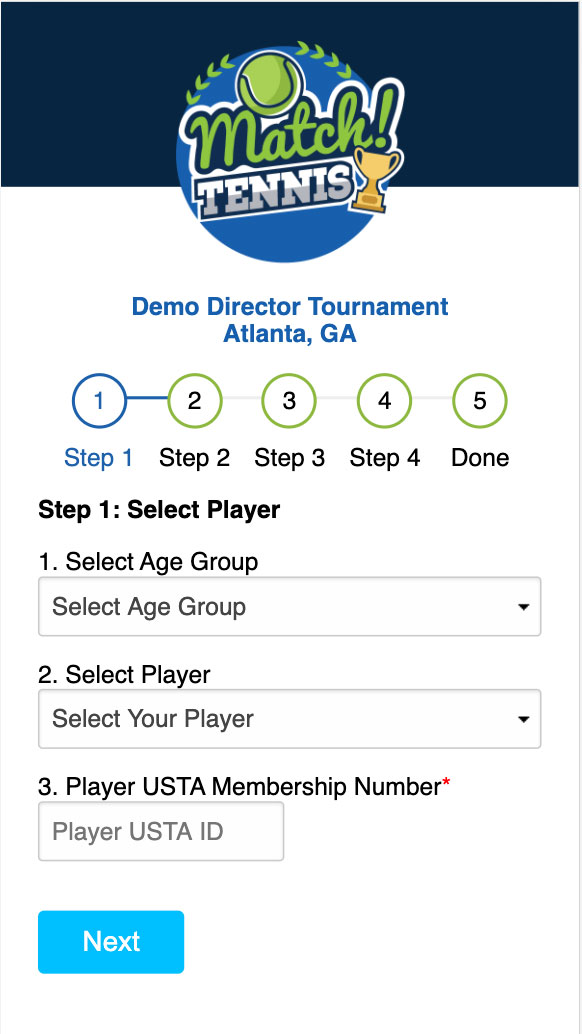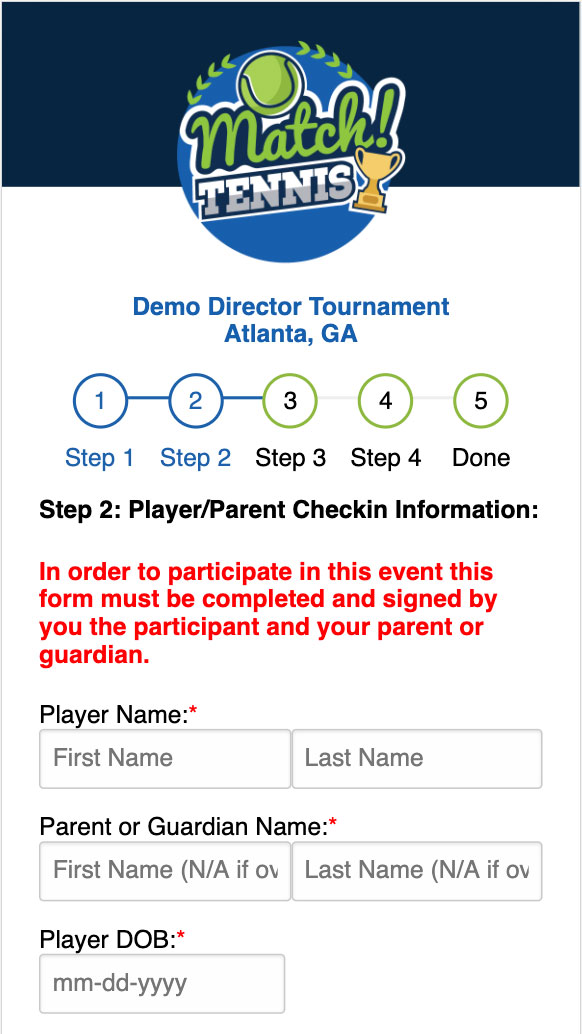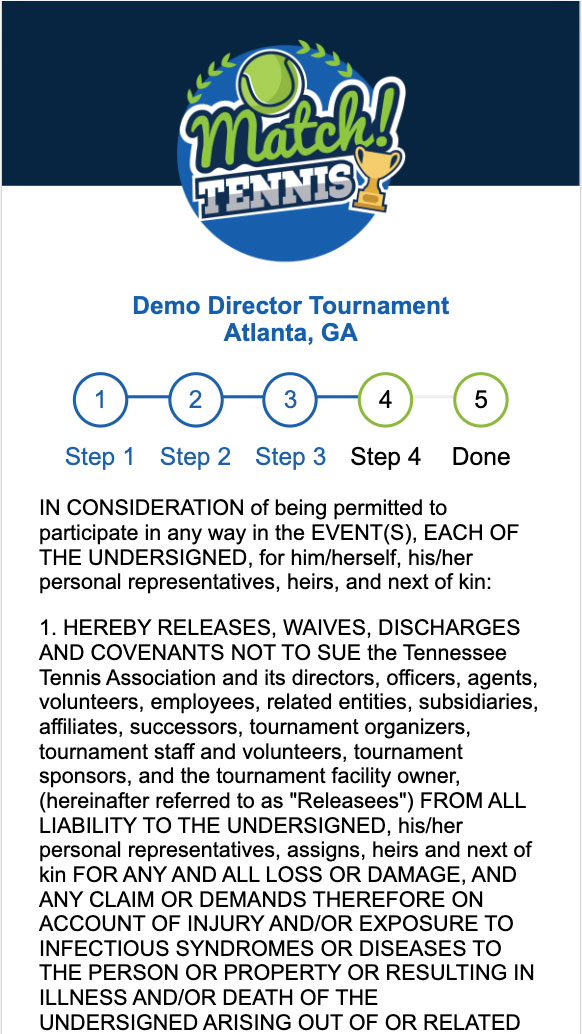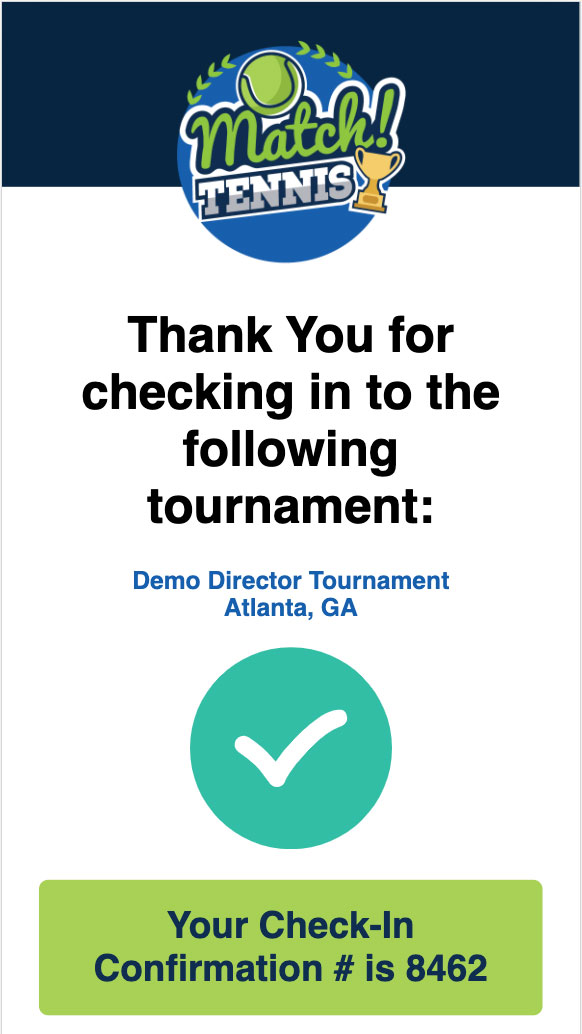 What to do NEXT?
If you want to download the form as PDF or print the form. Scroll the page down. You can find
"Download PDF"
button and
"Print Form"
button. If you missed this page, don't worry. You will get email for the link.
If you have another player to check-in.  Scroll your confirmation page down and click "Check-in Another Player".
Login with the username/password you created.
Check the home screen calendar for this tournament.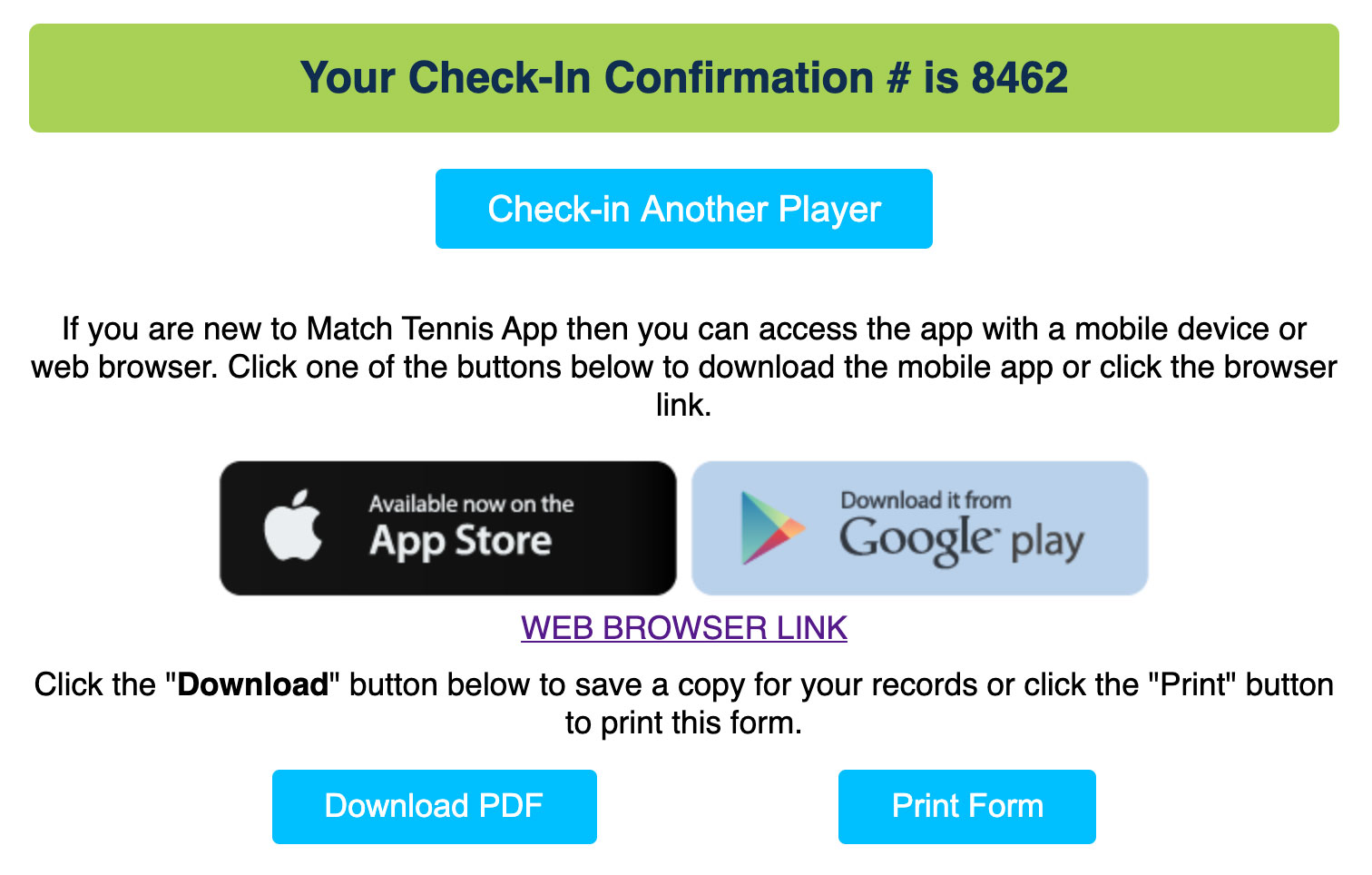 Where can I see all my waivers that I submitted?
When you login Match Tennis App, you can find completed waivers on My Account > Completed Waivers page. If you need to change phone number to receive Tournament Director's Message for match, you can update there.
How to check-in for each match using MatchTennisApp
1. Login Match Tennis App
On the calendar find and click on the tournament you are playing.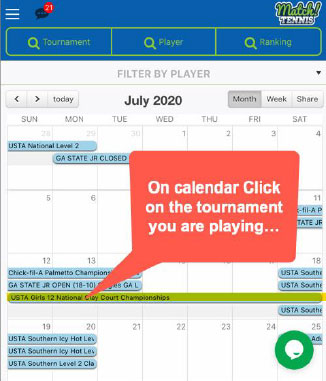 2. Click "Match Check-In" button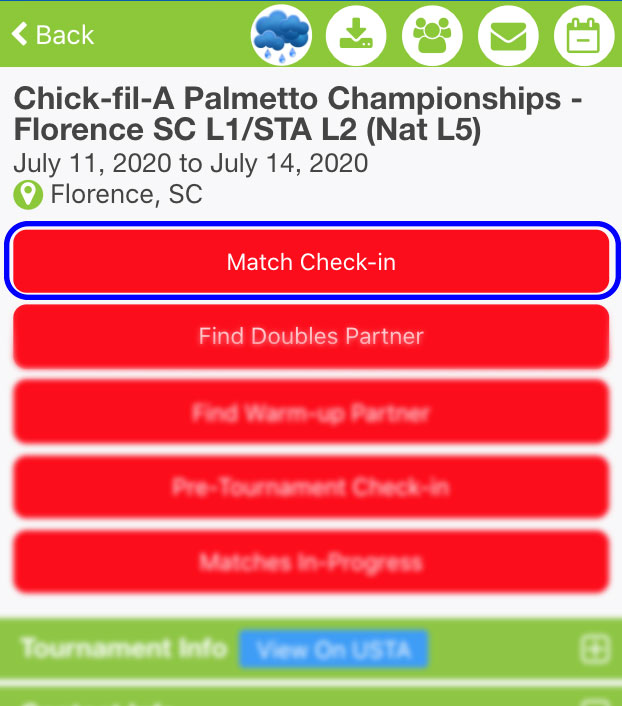 3. Click "CheckIn" button for your match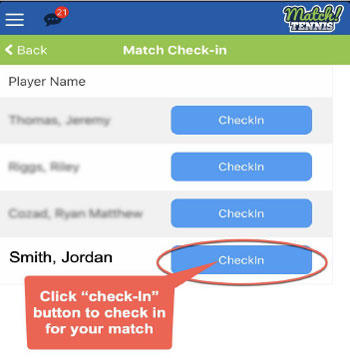 4. Verify confirmation
Check your confirmation date and match check-in timestamp.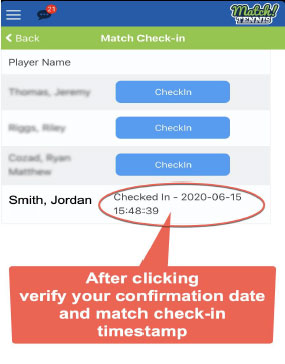 If you use iOS or Android App on mobile, please download the latest version of iOS app or Android app. The latest version of iOS is 3.0.4 and version of Android is 3.0.5.
If you still have a trouble to see the Match Check-in button, you can also access our app with Safari or Chrome browser on mobile. https://www.matchtennisapp.com/baseapp/
How your matches will be called after you have checked in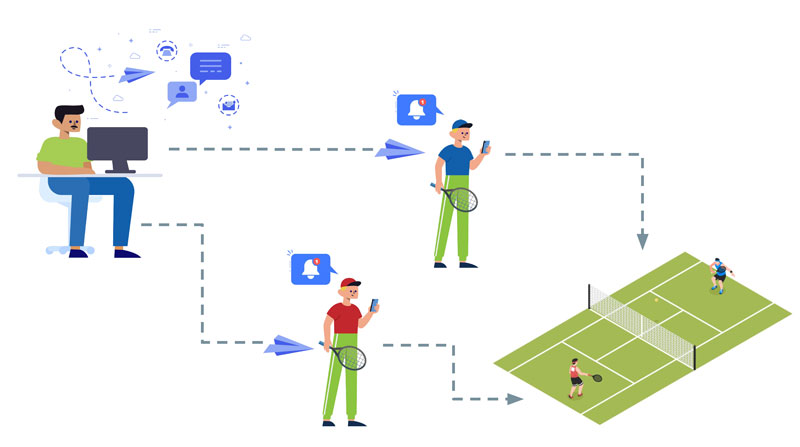 Both players will receive a text message when their match is called containing the court number and a link to click to confirm receipt.
Both players must click the blue link to verify they received the match page and are reporting to their assigned court to begin play.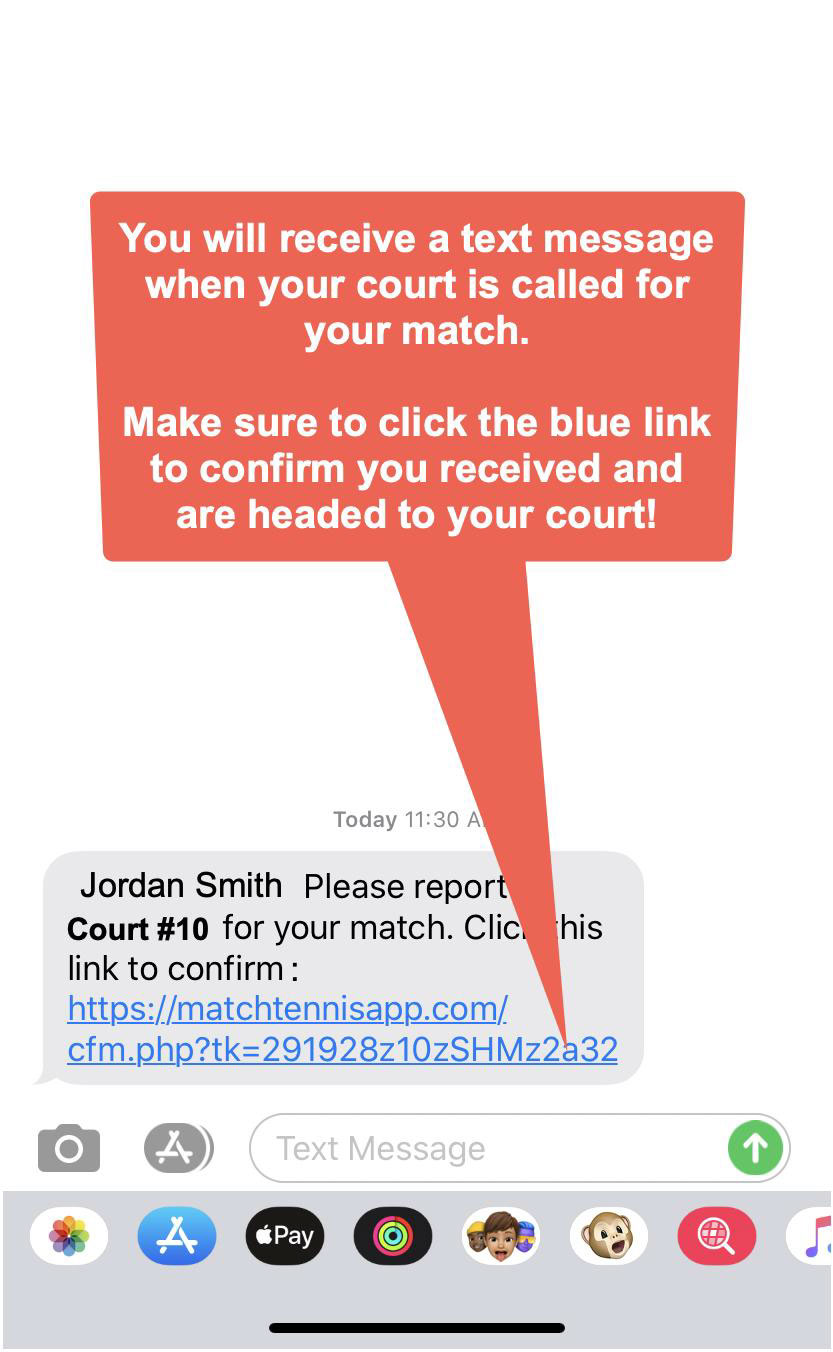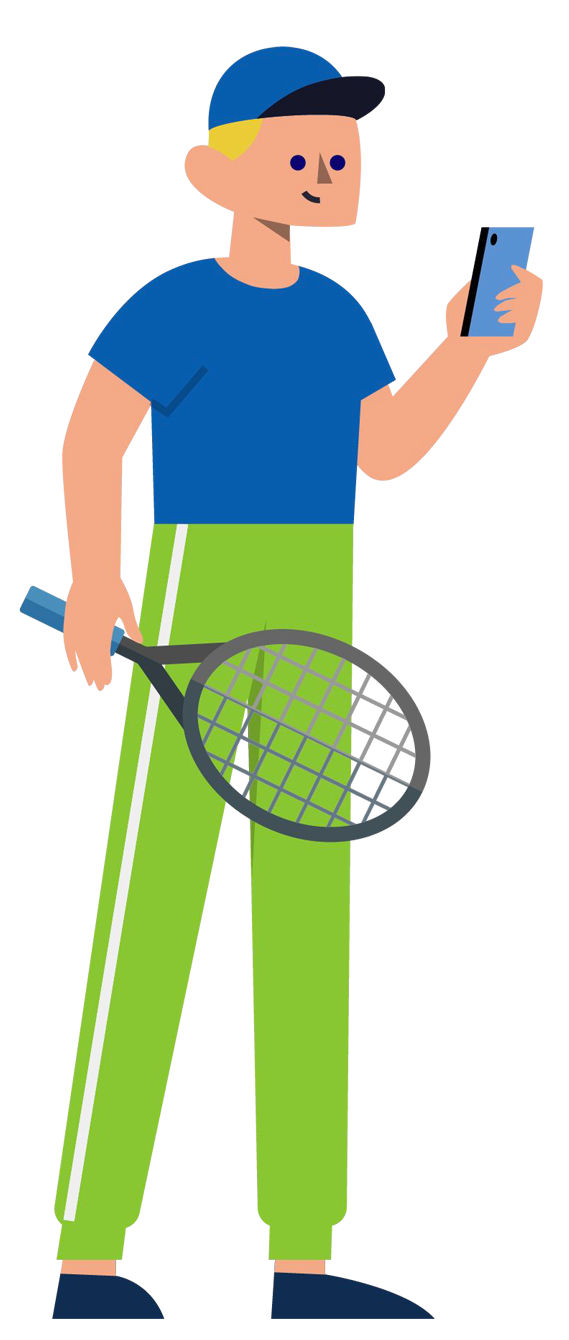 How to report your score after each match
After receiving your court assignment text click the link to confirm and you will see the "Match Confirmed" page with a button to "Submit Score" after the match so you don't have to go to Desk!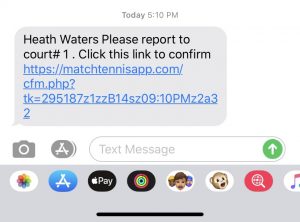 After the match, both players Click the link to report score.
Report the score on your mobile device BEFORE leaving the COURT!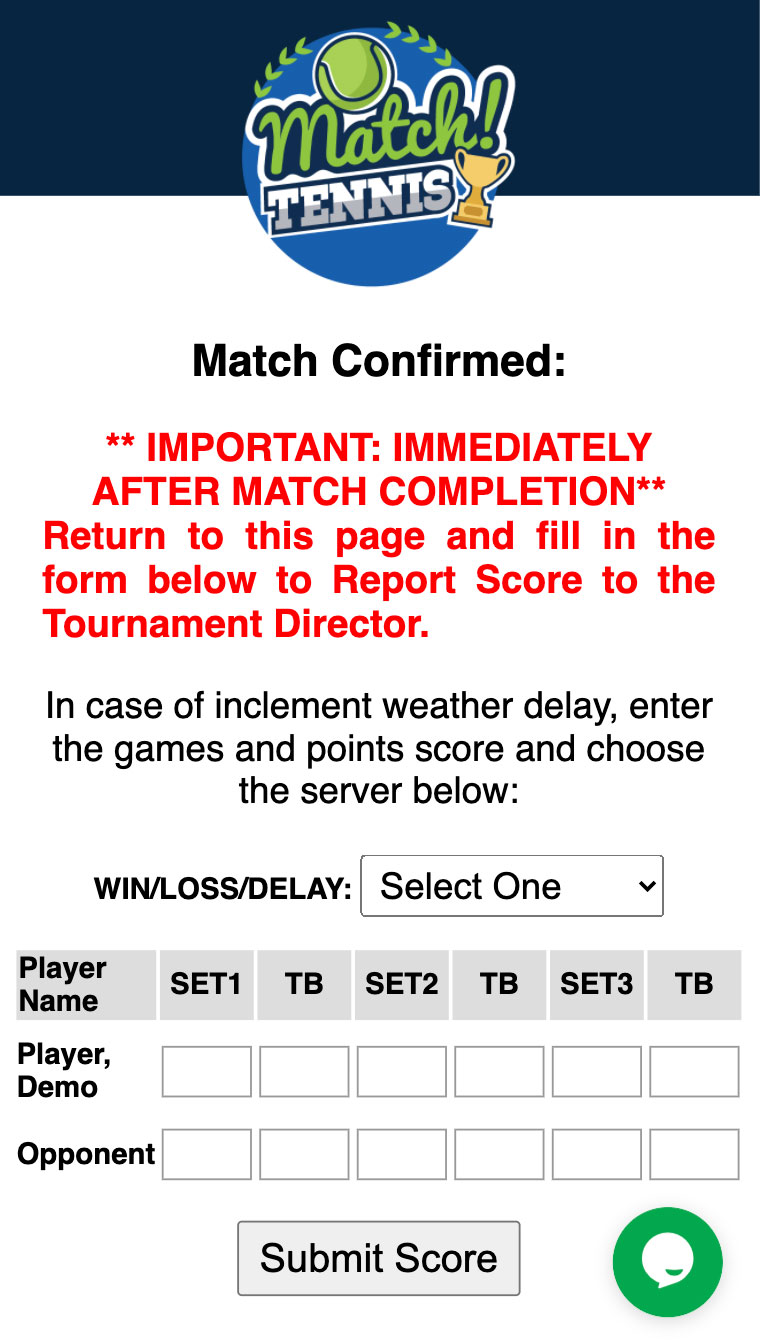 Do you want to learn more about Match Tennis App?
Technical Support
For questions about using the Virtual Tournament Desk please ask your tournament director or contact support@matchtennisapp.com for assistance.