Click the PLAY button above for a 76 sec video showing how WE use Swing Vision and Match Tennis App for Player Development Awesomeness!
Click HERE to sign up for and download SwingVision (Link includes discounted annual subscription + Free Trial)
Connect SwingVision to Match Tennis App (inside your Match Tennis App "my account")
Open Match Tennis App and click the "Record with SwingVision" button on any player profile to record your tournament or practice match
Can record video of all your tournament and practice matches (videos include basic match statistics)
Review and study your match videos directly from Match Tennis App in order to prepare and improve your game for your next match…A PRICELESS TENNIS GAME GROWTH TOOL!
---
STEP 1: Sign Up & Download SwingVision
To initiate and store your SwingVision tournament and practice match video recordings for quick access in Match Tennis App you will need to create a SwingVision account and then download the SwingVision app. Click the button below to get started:
---
STEP 2: Connect SwingVision to MTA
Open MTA (Match Tennis App)
Click menu and go to My Account
Click Connected Accounts
Click Connect button and enter your SwingVision login credentials
Match Tennis App is now connected to SwingVision and you can record and store all match videos on your profile page for quick access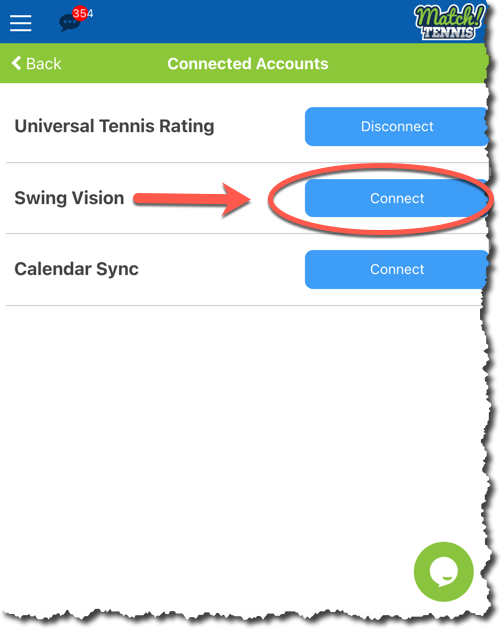 ---
STEP 3: Launch SwingVision within MTA
Click on your player's profile and hit the "Record With SwingVision" button

---
STEP 4: Complete Setup Form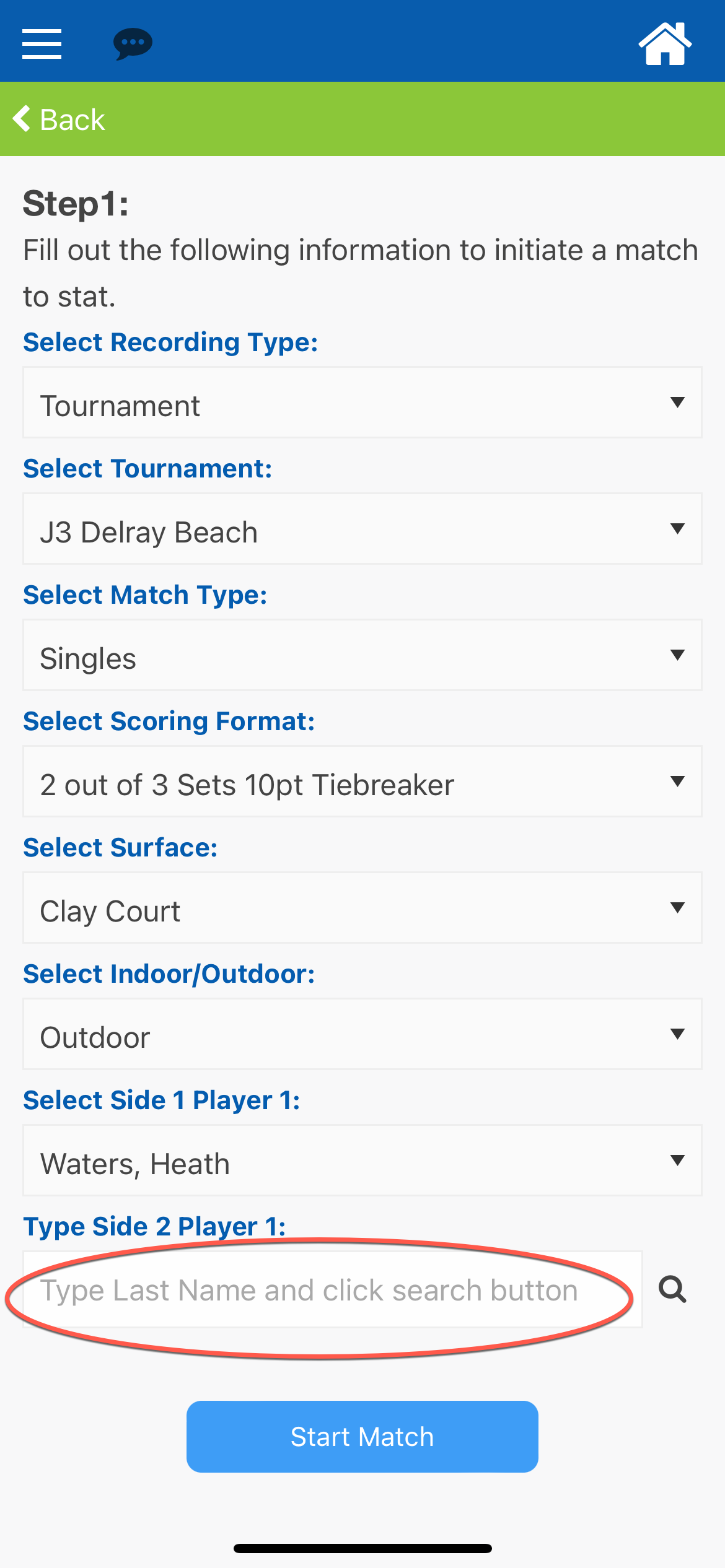 ---
STEP 5: Set Camera Up On Back Fence
Click the video record button and set your phone on the back of the fence to record your match:
We personally use the iPhone 12 Pro (purchased a dedicated phone only for recording matches) and place it on the back fence to record all tournament matches (of course you must get permission from the other player prior to recording). The advantage to using the iPhone as opposed to the GoPro or similar is once you pull the iPhone down off the back fence the video is already edited and transcoded. With a GoPro or other device, you still have to upload the footage to your computer and run it through the SwingVision software to do its thing… this process is time-intensive and not practical for viewing real-time match videos in between matches at tournaments.
---
STEP 6: View Your Videos Inside MTA
Immediately view your tournament or practice match video directly from your player profile page on Match Tennis App.
SwingVision automatically edits out all the dead time in between points. SwingVision's artificial intelligence turns a 2-hour match into 7-20 minutes of instantly viewable pure point play action. No more having to spend hours yourself editing footage or having to download GB of video to your computer and then having to upload to youtube etc. What a HUGE time saver!
USE CASE: As an example, if a player has a 10 AM match followed by a 1:30 PM match on the same day, using the iPhone to record the match allows you to instantly view the video of the first match upon match completion. SwingVision edits out the dead time in between points leaving viewable point play footage only. You can then easily review and study your video while at lunch in between matches with your coach. Video does not lie. This is TRULY REVOLUTIONARY TECHNOLOGY for player development growth!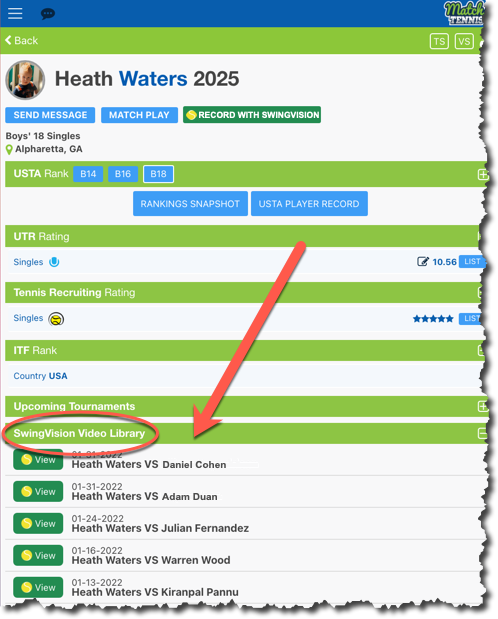 ---
LIVE SUPPORT CHAT
Have questions or need help with this AWESOME Tool? Click HERE to contact us LIVE.