The Rankings Snapshot tool is designed to evaluate a player's earned points from each tournament in order to rapidly determine the top 6 singles and doubles results that contribute to your USTA ranking. Formerly the "Tournament Rankings Results" tool, we have done an overhaul and changed the name per your request!
With all of the complex ranking rules and regulations, figuring out your ranking can be very confusing. With our Rankings Snapshot tool, all of these complex scenarios are auto-calculated and provided in an easy-to-understand Snapshot so you don't have to spend time trying to figure it all out yourself. Our tool does all the work automatically for you!
Our tool also displays in bold bright colors which singles and doubles tournament points are chronologically falling off next. This useful data will help assist in making decisions on which tournaments to play in order to improve or to maintain a current USTA ranking.
The current USTA ranking system includes a player's top 6 singles and top 6 doubles tournament results made up of points from junior tournaments on a rolling 52–week basis. The combined rankings (the rankings used by USTA most often for tournament acceptance) are derived by calculating a player's top 6 singles result points combined with 15% of a player's top 6 doubles result points plus bonus points obtained.
Good to know: If a player plays multiple age divisions they will be rewarded 20% points for the next older age division up and 100% points for all younger age divisions down (provided a junior ranking tournament has been played in the younger age division and they are among the player's best 6 results).
For example, if a 12-year-old plays and earns 1000 points at a tournament playing up in the older 14's age division, this player would also be awarded 200 points (20%) for the (older) 16's division, and 1000 points (100%) would be awarded for the (younger) 12's division (provided that a Junior Ranking Tournament has been played in the younger 12's division and it's among the player's best 6 results). Also note that the 20% playing "up" (older age divisions) points are only awarded for the next older age division up (points would not be awarded for the 18's division in this specific scenario), yet the 100% down rule applies to ALL younger age divisions if one has played a junior ranking tournament in those specific younger age divisions.
How To Locate the Rankings Snapshot Tool:
1. Search for a player and navigate to any Player Profile detail page within Match Tennis App
2. Click the "Rankings Snapshot" button (reference image below)
3. The list will auto-populate with the last Age Division clicked along with the top 6 singles and doubles results by points (click any age division button to rapidly switch views accordingly)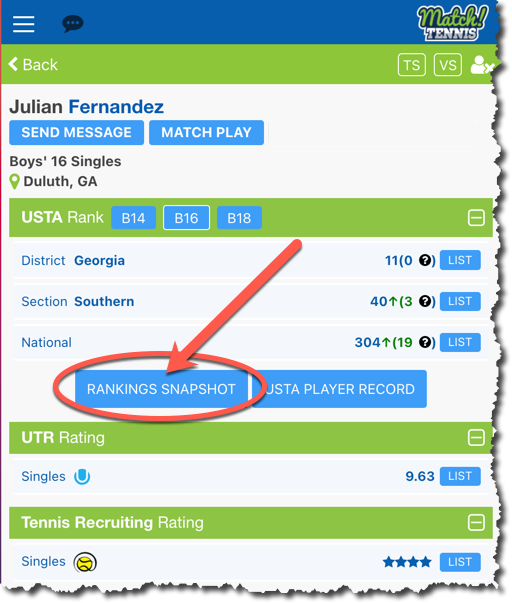 How to Use (Reference Image Below):
Click any of the top blue age division buttons to change the list of tournaments

Total column displays total single and doubles combined points for a specific age division
Singles column displays all Singles event points for a specific age division
Doubles column displays all Doubles event points for a specific age division
Bonus column displays all bonus points earned by event for a specific age division

Click any column header to sort the list by Ascending order for that column
Click any column header a second time to sort by Descending order
The red highlighted row represents the next SINGLES result points to fall off
The orange highlighted row represents the next DOUBLES result points to fall off
You can also reference the 2021 Points Tables which are located below the tournament results list to view result points associated with each tournament level, type, and round passed. The BONUS points table is displayed as well.
This tool, along with the "Ranking Forecaster", and "Tournament Scheduler", will save parents and players hours of time planning tournaments. We have put the most relevant and important data at your fingertips as you plan, schedule, and work towards specific ranking goals.
(Pinch to Zoom on Mobile Device)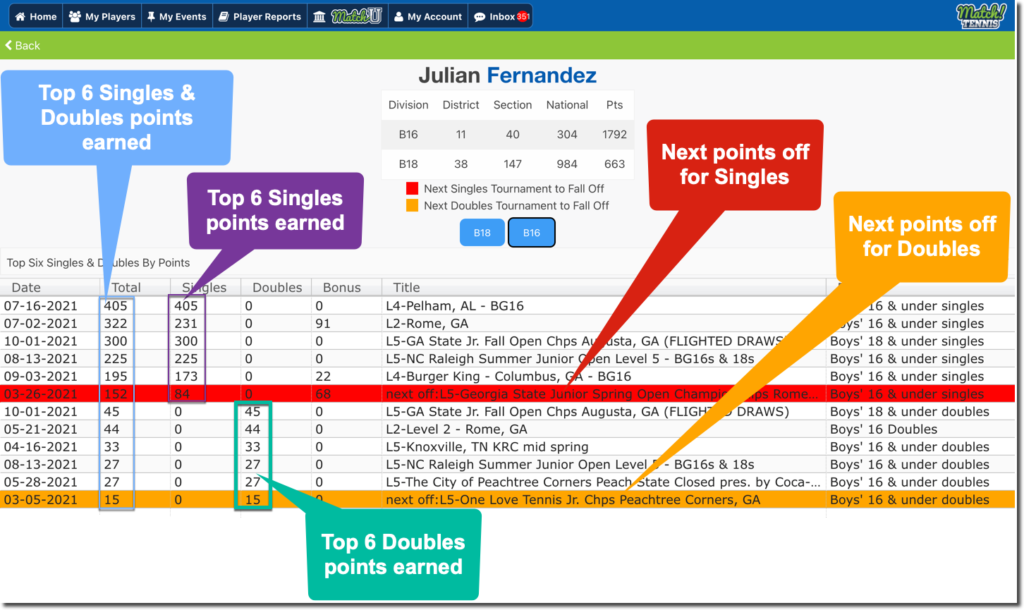 Not yet a premium user? Click the button below to use this time-saving feature.